SURPRISE! - "ROAD PEACE" in U.K.
"SURPRISE! SURPRISE! SURPRISE!"
-Gomer Pyle, USMC

(re-edited, March 10, 2010)
The new year is starting off with lots of surprises... for one, the term "road peace" has been thought of by others. In the U.K. there is a site called RoadPeace.org. It calls itself a "charity providing support for victims of road crashes and campaigning for justice, road safety and road danger reduction." You may want to check it out, especially if you have connections in the U.K.

Another surprise regarding "road peace" is the fact that the UN Road Safety Collaboration is also in the act.

Yet one more "road peace" piece is this piece from The Philipines.

Still more surprises... I found not one, but two activists in my area. Well, one led to the other, actually, but it feels wonderful to think that there can be allies close enough to entertain the idea of getting some "face time." The first is a television producer who focuses on pedestrian safety. In his response to my email, he sent a link to this blog by a visually impaired pedestrian.

Other great news: My brother, the talented nature photographer, gave permission for me to play with one of his photos. (It is one of my favorites, and can be seen on the site.) Soon, it will be available as poster, t-shirt, etc. It will look something like this...



The first time I saw the photo in the poster, above, I thought about the issue of child safety, and how kids get killed in the driveway, which is one of the big issues at kidsandcars.org. They also are very concerned about the tragedy of children being left in locked cars, where they die of heat stroke. Here is a touching story from The Washington Post.

Please, remember to check out the store... Among other things, you can find this key chain reminder-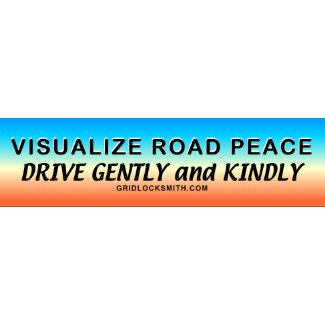 VisualizeRoadPeace..
by
gridlocksmith
See more
Visualize road peace drive gently and kindly Bumper Stickers
Labels: "campaigning for justice", "pedestrian safety", "road crashes", "Road Peace", "road safety", "support for victims", "visualize road peace", alert, charity, children, gridlocksmith, kids, safe